New building,
new website
Let's take a look how the National Museum's website was redesigned.
Project introduction
The dominant of Wenceslas Square, which is the center of attention not only of tourists, but residents of Prague as well. Yes, we are talking about the National Museum, which was closed for nearly 7 years due to big renovations. Everything is now done, shiny, beautiful - simply worth the wait. What, however, would be a new beautiful building without a beautiful and modern website? At Pixelmate we have, therefore, for the occasion of the reopening, redesigned the website. A 100% functional website that attracts the eye of visitors of all ages with grace.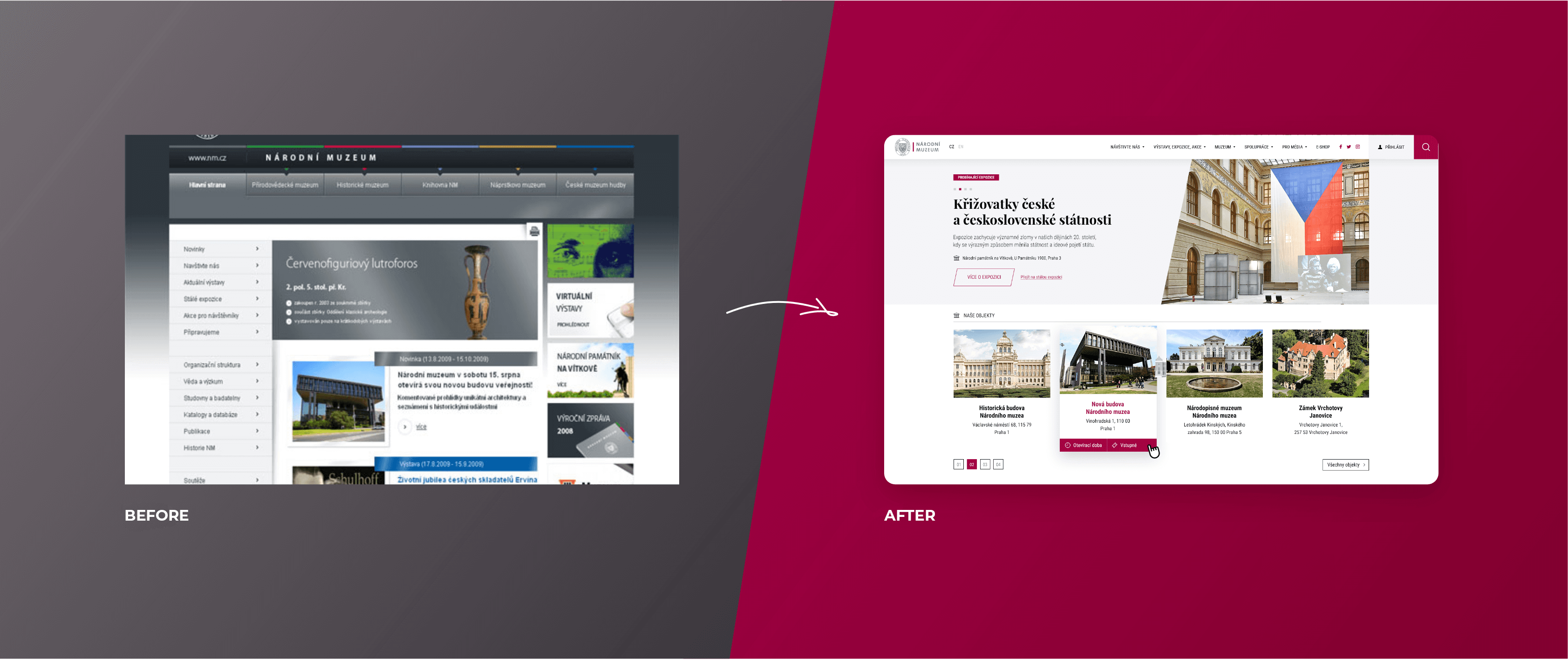 02
Wireframing & Prototyping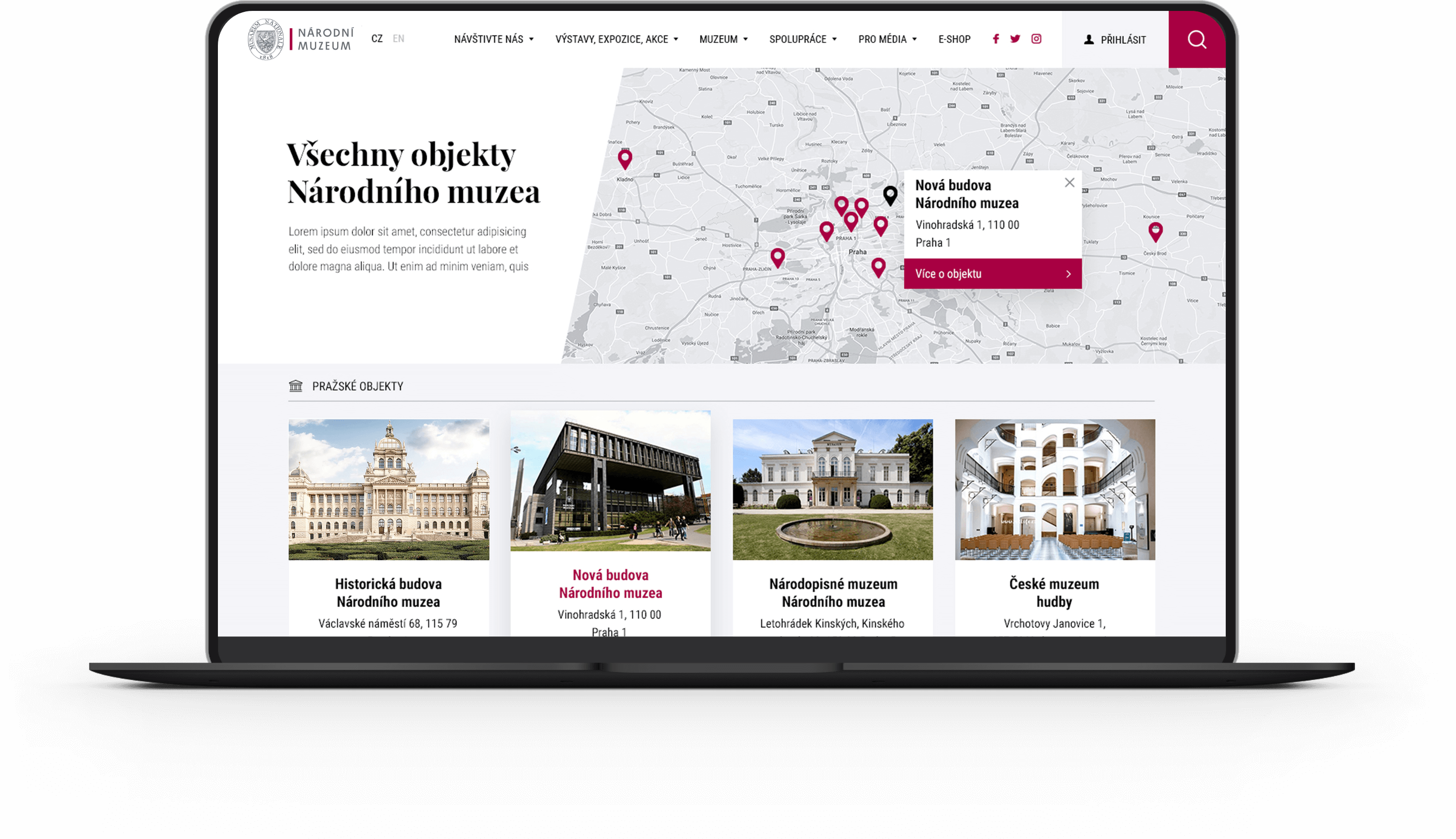 Task
At the National Museum, they've been bothered by this for some time - how to shine in the digital world too?. That's why they approached us to help them jump onboard a digital train.. We were stoked, that it was us in Pixelmate who could take on such a nice and typically Czech project. And what were the requirements? Clear, modern design, fully accessible audio-visual content, relatively quick completion and fresh & functional design of news and newsreel of the events in the Museun. So we went straight to work. Our goal was to implement everything within two months. - from icons to beautiful responsive website, ready to represent the dominant of Prague.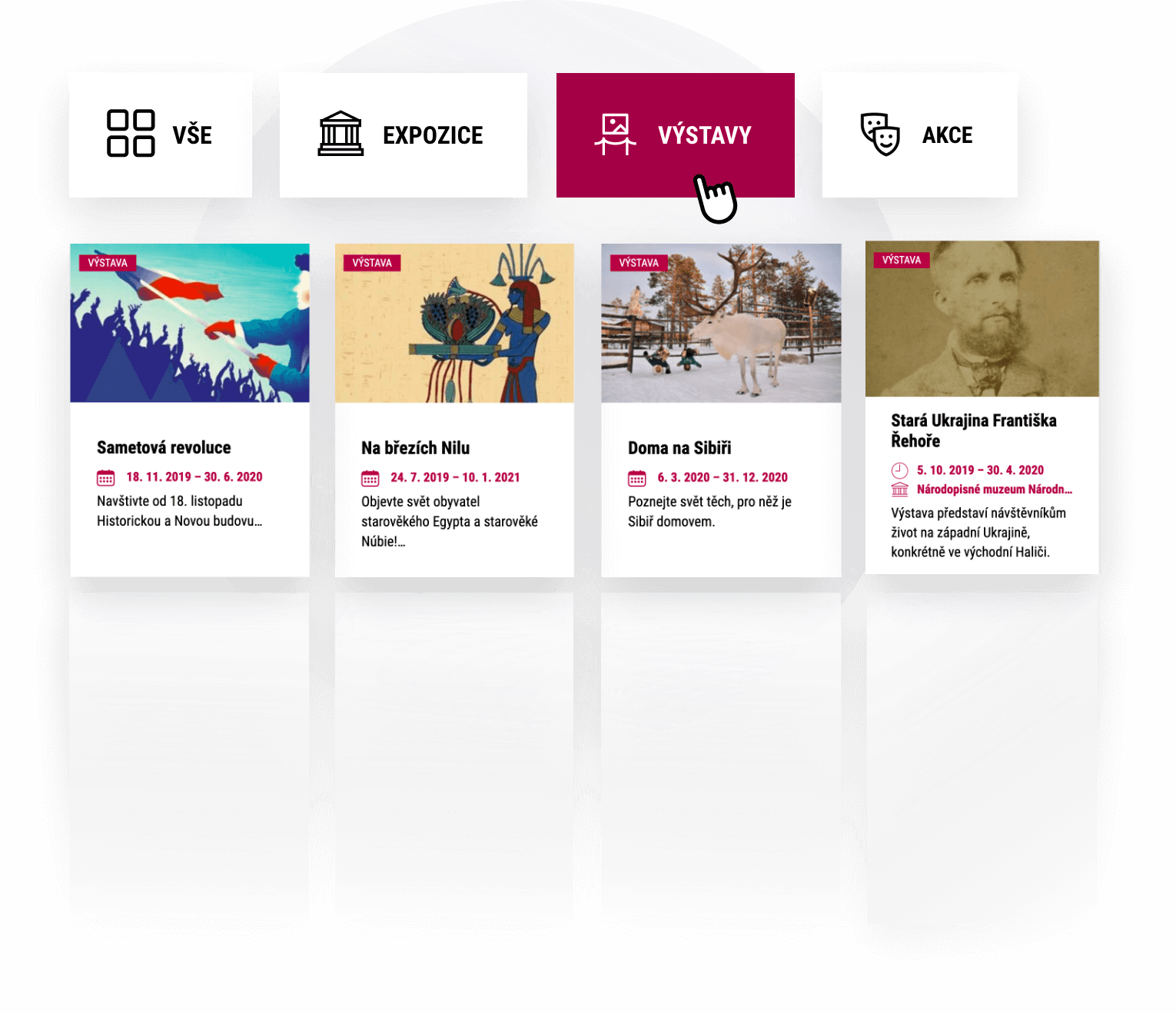 User interface
Everything in one place
Complex filter ensures, that you won't get lost in a sea of events which the National Museum normally has in its programme. More than 20 milion of collection items are just needed to be seen.
Design
Iconography and cut rectangles
The redesign also included creation of almost 50 icons to cover all the needs of the Museum. Our creative team came up with an idea of "cut rectangles, which complimented the design greatly.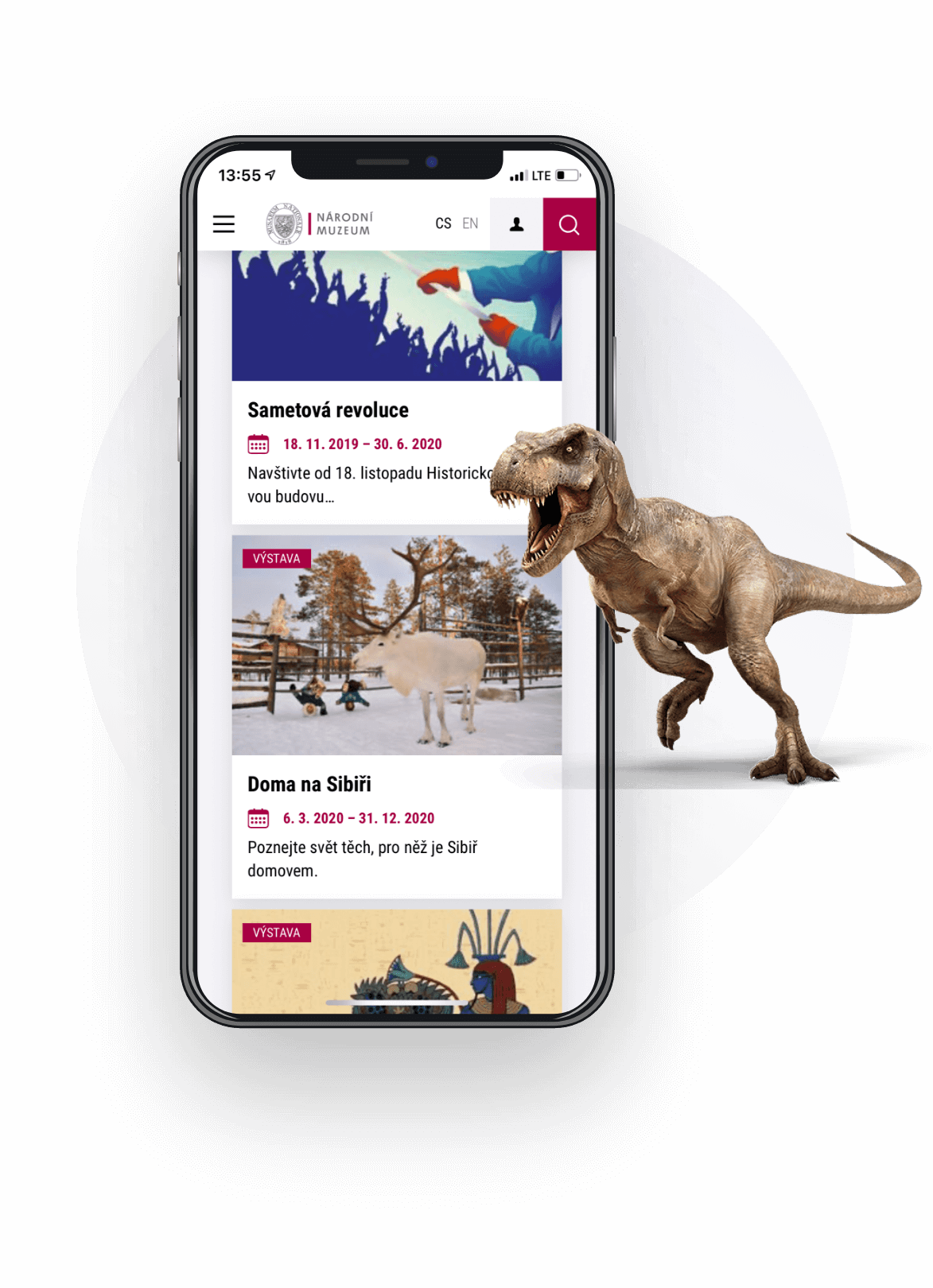 Responsiveness
63 % are mobile users
And thats a good sign. We obey the rule "Mobile first", therefore everything is perfectly tested and fine-tuned.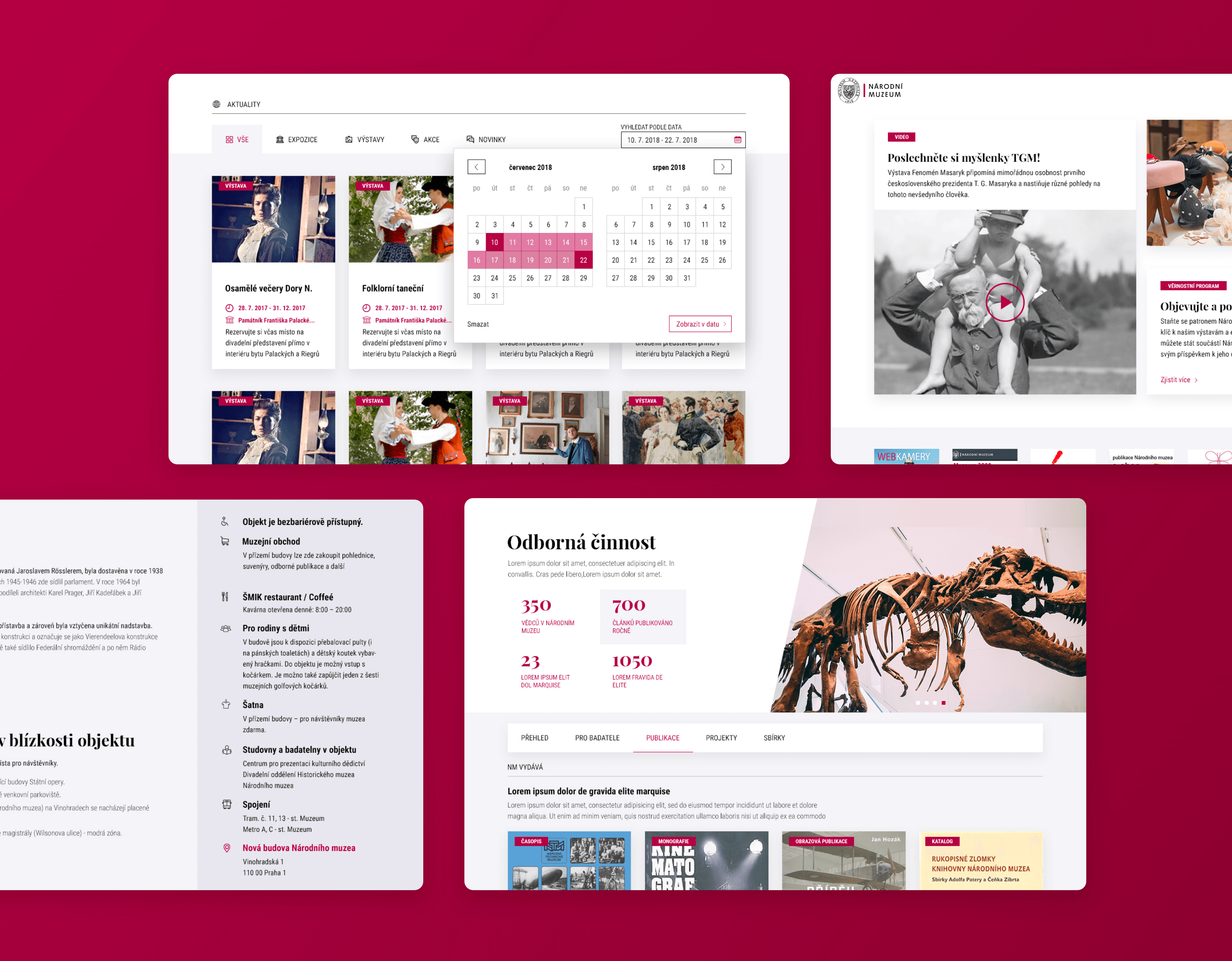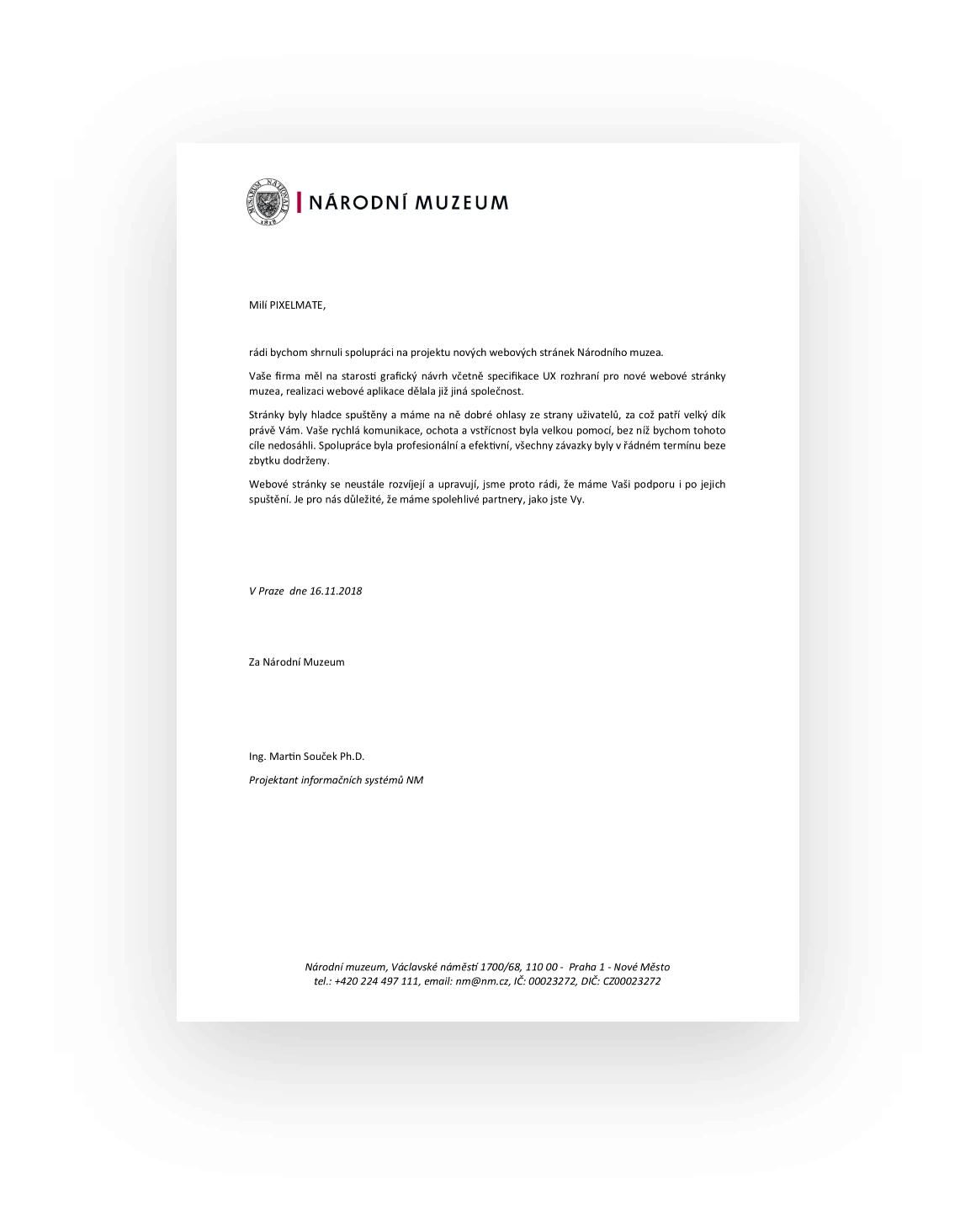 In conclusion
Client's words
"The site has been running smoothly and we have received good feedback from users, for which we are very grateful just you. Your quick communication, willingness and helpfulness were a great help without which we would have this did not reach the goal. The cooperation was professional and effective, all commitments were without due time the rest are respected. The website is constantly evolving and editing, so we are glad that we have your support even after them launch. It is important to us that we have reliable partners like you."
Ing. Martin Souček Ph.D.
Information systems designer NM
Contact us
Let's meet over coffee
Address
Pixelmate, s.r.o.
Na Lysinách 443/57
147 00, Praha 4
By car
Exit from Barrandov bridge to Braník
By plane
Coordinates 50.0230122N, 14.4156611E
By walk
2887 steps from OC Novodvorská
By bus
Bus stop Na Lysinách, bus 106 or 121