"We're not just developers. We help startups and companies build projects efficiently, quickly and so that every line of code pays off economically."
02
Phases of strategic planning
One of the most important phases of the project - now the key functionalities, budgets and phases are being addressed.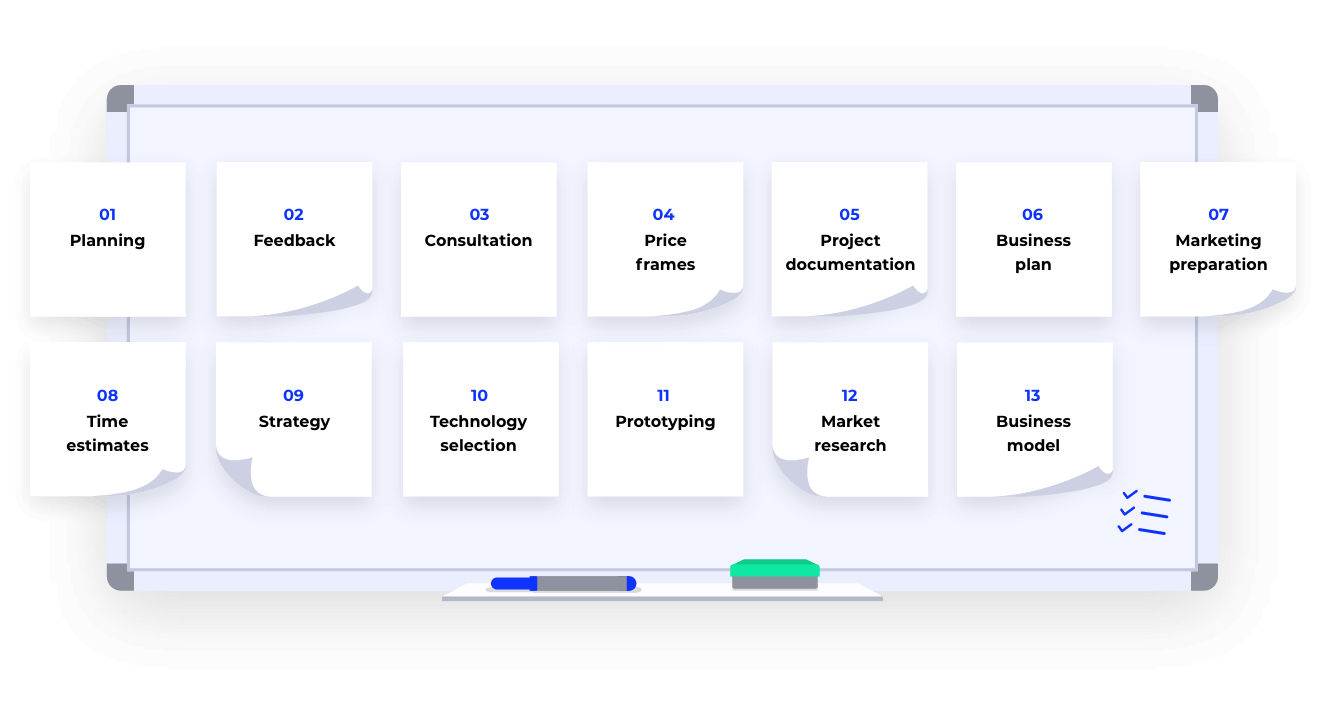 03
Project development
There are two ways to develop projects. We tailor each selection of project management seperately.
Advantages
We can start with development immediately
We save costs with project documentation
We continuously showcase the work that has been done
Having the possibility to change a part of the project or priorities at any time
Disadvantages
For some clients, it is difficult to accept a vague budget and time needed
"Agile development is proven mainly for larger clients who have project team and often other developers on their side. The client will invite us if he needs to speed up development, streamline it or need closely professionalised software engineers."
Agile development is most often chosen when:
The assignment is not clear or it is inefficient to write it in detail at the beginning
We are invited to a long-term project in progress
A long-term cooperation that is constantly developing and growing
Fixed price/fixed schedule
Advantages
From the beginning of development, you know how much will it cost and how long will it take
Suitable for MVP and smaller projects
The most common approach to creating a project
Disadvantages
In the beginning, it is necessary to draw up a detailed assignment for the project
Development "fix time/fix price" we choose mainly when:
A startup or project that has a clear assignment and is easy to describe
It's a smaller project
Co-cooperation - we take care of design, development, testing
04
Technologies and tools
What technologies and project tools do we use most often?
05
What can you expect from us?
Reliability
What we promise, we keep, period.
Quality code
Every code from us is commented, described and created so that a different engineer understands it.
Tailor-made software
The custom project belongs to you. We don't use any hidden payments.
We are responsible for the project
It is up to us to professionally manage the project, to draw attention to any problems and to keep an eye on the deadlines.
Substitutability
Every member of the team is substitutable, you should not be worried that our engineer got a cold.
Long-term cooperation
87% of clients are in a long-term cooperation with us, often the client/agency relationship grows in partnership.
Contact us
Let's meet over coffee
Address
Pixelmate, s.r.o.
Na Lysinách 443/57
147 00, Praha 4
By car
Exit from Barrandov bridge to Braník
By plane
Coordinates 50.0230122N, 14.4156611E
By walk
2887 steps from OC Novodvorská
By bus
Bus stop Na Lysinách, bus 106 or 121