Průvodce pro ty, kdo se nechtějí spálit
Vše, co jste si přáli vědět o software na míru
Nejsme jen vývojáři
Jsme vývojáři, co rozumí vašemu businessu
Nedělá nám problém vytvořit jednoduchou mobilní aplikaci, prémiové webové stránky, nebo robustní software, který tvoří srdce automatizované továrny. To vše přesně na míru vašim cílům a potřebám. O naše projekty pečujeme od návrhu strategie, přes vývoj, až po finální marketing.
Často dodáváme jen dílčí části:
06
QA a testing (automatizované, penetrační, …)
Napište nám
Technologie, které využíváme
Milujeme open-source
Chceme pro naše klienty to nejlepší a v drtivé většině jim doporučujeme postavit vývoj na open-source technologiích
Open-source technologie mají pro klienty mnoho výhod:
01
Může je převzít jakýkoliv vývojář
02
Nepřekvapí vás žádnými dodatečnými poplatky
03
Nejsou závislé na daném vývojáři ani licenci
04
Nehrozí předražené úpravy
05
Investor si před vstupem do projektu kód a licence prověřuje
Chcete rozšiřovat web, ale je to problém?
Měsíčně nám chodí kolem dvaceti poptávek od klientů, kteří by chtěli rozšiřovat web, ale původní vývojář s nimi nechce spolupracovat (na úpravách nevydělá), nebo se nestydí říct si o 4 násobek předchozí ceny. Může si to dovolit, protože jiní vývojáři s koupeným licencovaným SW pracovat nechtějí nebo neumí.
A jaké je řešení?
Pokud jste se spálili, budete si muset nechat svůj web nebo mobilní aplikaci přepsat do open-source technologie, případně používat běžně rozšířené licence. Rádi s vámi tvorbu nebo rekonstrukci e-shopu probereme osobně.
Nechceme se chlubit, ale…
U nás v Pixelmate máme několik zásad
01
Finální řešení patří vždy jen vám. Přizvěte vývojáře, až váš projekt vyroste a vyplatí se vám jednoduché úpravy dělat in-house.
02
Nejste na nás nijak závislí a my nemáme žádnou páku, jak z vás ždímat nekřesťanské sazby v budoucnu.
03
Pokud bude potřeba použít dílčí licencované řešení, bude to po důkladné analýze výhodnosti oproti vlastnímu vývoji.
04
Žádná překvapení - budete výslovně informováni o ceně a důvodech pro použití licencí předem.
Development step by step
Jak stavíme software na míru
Consultation and Workshops
We are finding the right business model for your goals and target group
Solution Architecture
From several prototypes, we choose the right one and elaborate on it.
Design creation
We finalize the web structure and its graphic design with a perfect UX/UI.
Engineering
Without delays, we turn plans into reality. All progress is reported to you weekly.
Testing
The final version is tested without compromises. We debug on 20 smartphones with several OS and browsers.
Deploy
The app that fulfils our highest demands is uploaded to the AppStore and Google Play.
Marketing and Growth
We bring first users and analyze their behavior, based on which we propose additional steps and improvements.
Ne vždy je mlčeti zlato
Nebudete tomu věřit, ale komunikace mezi klientem a vývojářem je naprosto klíčová pro úspěch celého projektu.
U kvalitní agentury jsou samozřejmostí dvě role:
#1
Project manager
Řídí úkoly a termíny celého produkčního týmu.
Zná schopnosti i časové vytížení všech vývojářů i designérů, kteří se projektu účastní.
Garantuje vám plnění plánu a kompletní odevzdání v termínu.
#2
Account manager
Je s vámi v pravidelném kontaktu
Informuje vás o vývoji projektu a prezentuje dosažení milníků.
Je pro vás kdykoliv na telefonu a na e-maily odpovídá během několika hodin.
There are 3 reasons why our clients most often recommend us
Speed & flexibility
We were born as a startup that changes almost every day and requires maximum speed and flexibility. We answer 91% of emails in 40 minutes.
Quality
The best solution is the standard for us. That is confirmed by 5-star reviews on the biggest platform evaluating developers worldwide Clutch.co and stylish hand-written personal letters of recommendation.
Business orientation
Research among our clients revealed that from 95% they appreciate our business orientation the most. We save time, make money, solve problems.
01
Reliability
We deliver to the last pixel what we promise. Our team proactively manages the whole project to the success and deadlines are sacred to us.
02
Human approach
We don't bore anyone with technical terms, we want to speak like humans. We understand business and not to waste your time we speak honestly.
03
Innovation
Innovate or die. We know it and we are not ready for dying, so we constantly innovate, experiment and improve.
04
Cooperation
The main reasons why we are a great SW agency are long-term relationships with our clients. We forecast their needs, save time and in 93% of cases, they are coming back to us.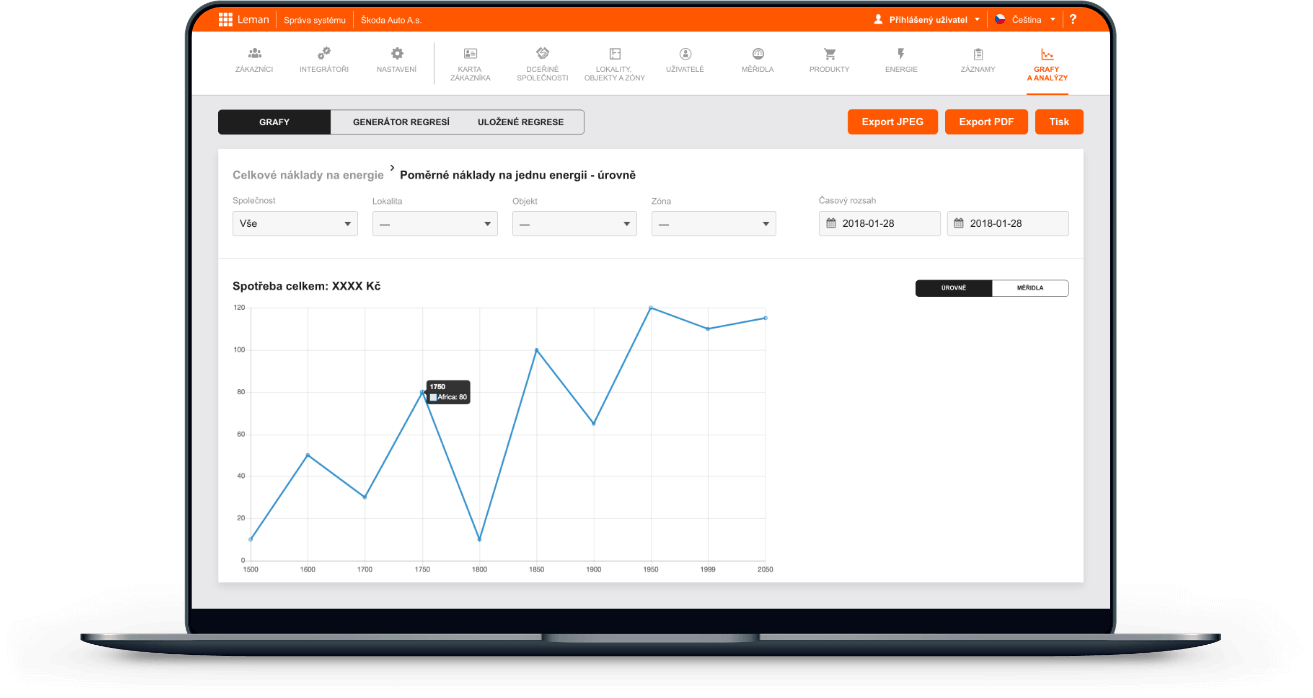 Produkční software
na míru automobilce
Automobilce jsme pomohli ušetřit přes 35 procent nákladů za elektrickou energii řešením, které za pomoci IoT optimalizuje provoz automatických robotů tak, aby se nedostávaly do dražšího tarifu. To vše přehledně v dashboardech, vždy po ruce manažera
Portfolio

What is Clutch?
Clutch is a worldwide valued platform for evaluating developers and agencies. They ring the client, collect their feedback on the passed project during a 15-minute call and convert it into a completely genuine review. Pixelmate is one of the best SW companies in the Czech Republic and Germany.
microsite-software.navigation.title