DevOps
Companies that adopted DevOps mostly praise:

46 times more deployed versions
Puppet Labs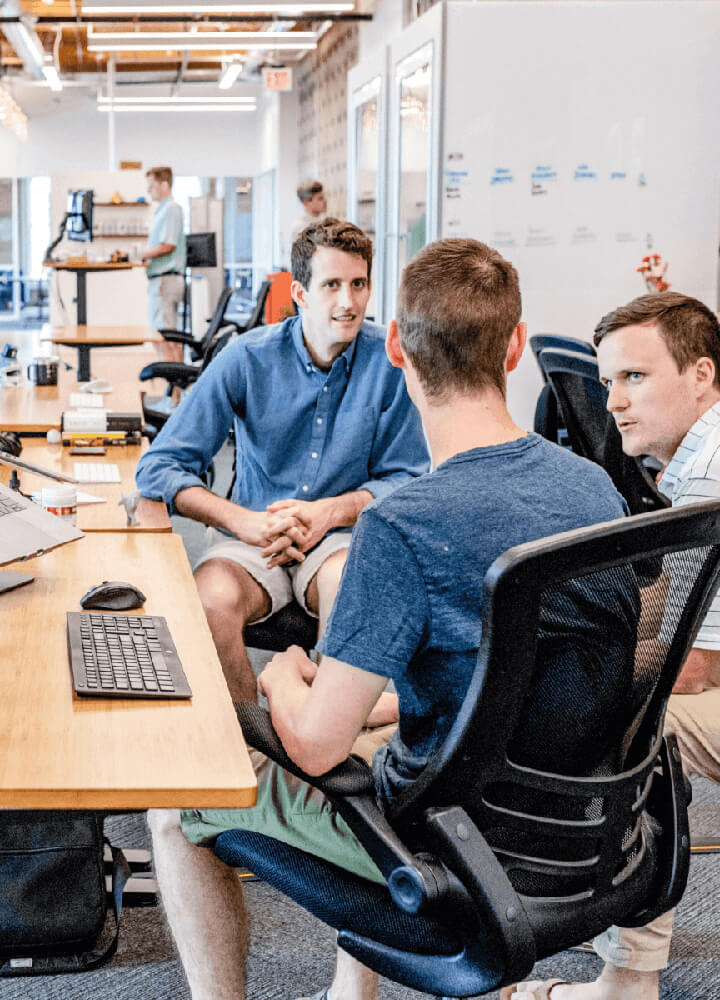 DevOps is a must
Developers and IT Operations are two different groups of people. The whole field of DevOps emerged to let them cooperate without any friction. Briefly, it is all about describing and automating of the development processes in order to ensure they will run smoothly and without problems. If the IT is not your core business, you don't pursue DevOps and your team is not so skilled, let professionals help you out. We assess your situation and propose the best option to adjust the existing processes and we create several environments for dev, testing, and production.
Don't fear, be eager!
Let the fear from all the potential bugs during the next deploy disappear. Start being eager about the updates, start looking forward to them. When we automate the test routine (load, penetration and other tests) and create one single cookbook for the complete lifetime of a new version (pipeline), you will never again delay a new release, you'll actually push it forward! We are here to help you with DevOps implementation and to bring it to life in the GIT ticketing platform .
Let's talk
And its positive side effects
What will happen when you define each process and start using automated tools?
01
Improved cooperation and teams in friendly mood
02
Conflict elimination and stable quality assurance
03
Faster releases of new versions
04
Faster issue-solving times
05
Easier management of unplanned situations and tasks
07
The well-tested version goes live
08
Higher security of the whole IT solution
How DevOps works?
The new release process is a never-ending cycle. In the second, you know what to improve, development starts. Then testing, deployment to the production and then care about the right results. After this round, you have a bunch of fresh ideas, so it starts all over.
There are 3 reasons why our clients most often recommend us
Speed & flexibility
We were born as a startup that changes almost every day and requires maximum speed and flexibility. We answer 91% of emails in 40 minutes.
Quality
The best solution is the standard for us. That is confirmed by 5-star reviews on the biggest platform evaluating developers worldwide Clutch.co and stylish hand-written personal letters of recommendation.
Business orientation
Research among our clients revealed that from 95% they appreciate our business orientation the most. We save time, make money, solve problems.
01
Reliability
We deliver to the last pixel what we promise. Our team proactively manages the whole project to the success and deadlines are sacred to us.
02
Human approach
We don't bore anyone with technical terms, we want to speak like humans. We understand business and not to waste your time we speak honestly.
03
Innovation
Innovate or die. We know it and we are not ready for dying, so we constantly innovate, experiment and improve.
04
Cooperation
The main reasons why we are a great SW agency are long-term relationships with our clients. We forecast their needs, save time and in 93% of cases, they are coming back to us.
Contact us
Let's meet over coffee
Adresa
Pixelmate, s.r.o.
Na Lysinách 443/57
147 00, Praha 4
Autem
Výjezdem z Barrandovského mostu na Braník
Letadlem
Souřadnice 50.0230122N, 14.4156611E
Pěšky
2887 kroků z OC Novodvorská
Autobusem
Zastávka Na Lysinách, bus 106 nebo 121
What other products can we offer?